In my family, everyone likes to charge and use their smartphone at the same time while sitting in the family room together. So to make it easy for us to all sit around together while staring at our phones, I want to make sure everyone is able to sit a charge at the same times.
This requires not only having USB cables long enough to reach where everyone is sitting but also enough charging ports. The one downside is that all these chargers and cables have created a rats nest of cables.
So to help with that problem, I decided to try out the ORICO 4 Outlet Surge Protector with 5 USB charging ports. This new power strip will eliminate the current power strip and the Anker 5 port USB charger. I check to see if Anker had a product like this before buying but I didn't see one so I decided to give the ORICO a try.
I bought mine from Amazon, it sells for about $24 but I picked it up on a lightning deal for just under $20.
The reviews on Amazon were pretty good. I don't think it will supports all the latest fast charging specs and I'll have to see how well it does with the iPads that require a little more amperage to charge. This isn't a deal breaker, as often we leave the iPads plugged in over night.
Now I ordered the white model, but the photo on the package is black. Once getting out of the box, it appears they did send me the white model. There are four three prong US outlets oriented 2 x 2 with the ground pins facing in. I'll have to see how well this works out with three prong plugs and wall chargers. The AC cord has a three prong plug and is 5ft long.
Now that its out of the box, lets replace it in the family room with a little before and after. I removed the old power strip UBS charger. I decided to plug the MacBook Pro charger into the wall to help keep the cables from tangling.
NewEgg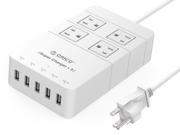 ORICO 4 Outlet Power Strip with Surge Protector with 5 USB Charging Ports
Text Links
Amazon http://amzn.to/2l425hz